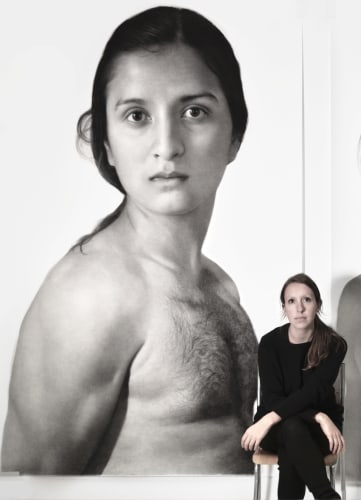 BIOGRAPHY
Clio Newton is an internationally recognized artist who combines traditional technique with a contemporary perspective. Newton's approach to her compositions comes from the standpoint of the "female gaze" reflecting her interest in contemporary models of femininity and the representation of women in art and culture. Newton's renderings in compressed charcoal and color pencil feature larger-than-life, figurative subjects - often solo sitters - who fill the picture plane and beyond. Her powerful compositions are unapologetic, informed by bold choices as they explore the psychology of the female experience.
American-born Clio Newton received her Bachelor of Fine Arts at The Cooper Union in New York City and a Masters of Fine Arts at Zürcher Hochschule der Kunste in Zürich, Switzerland. She has additional studies at The Florence Academy of Art in Italy. She was awarded the AKKU Artist in Residency grant in Zürich and was selected as one of the top young artists in Europe by Artagon in Paris. Newton is a two-time recipient of the Elizabeth Greenshields Grant Award and has exhibited her work in California, Miami, New England and New York as well as in Florence, Italy; Munich, Paris and Zürich. Most recently, Newton's work has been added to the collections of The Flint Institute, Flint, MI, 21C Museum, Louisville, KY and the Baltimore Museum of Art, MD. Her studio is located in Zürich, Switzerland, where she resides.
Clio Newton is represented by Forum Gallery. Her debut solo exhibition at the gallery was on view from September 26 – November 9, 2019.