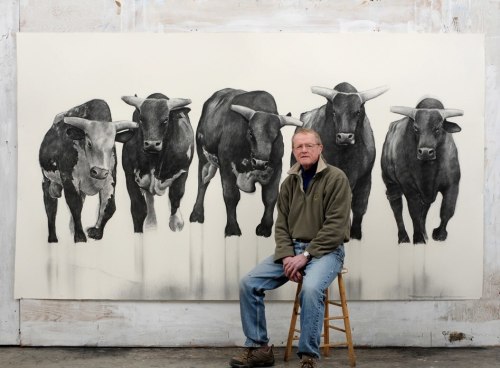 William Beckman was born in Maynard, Minnesota in 1942 and, after completing his undergraduate studies in his native state, studied art at the University of Iowa in Iowa City, receiving MA and MFA degrees in 1968.
Beckman began his New York exhibition career in a group show focused on Iowa in 1968 and soon attracted the attention of Allan Stone, at whose gallery the Artist had his first one-person exhibition in 1970. Notably, William Beckman was included in the landmark exhibition, Contemporary American Realism since 1960 organized in 1981 by Frank Goodyear at the Pennsylvania Academy of the Fine Arts. The show traveled to Virginia and California, and Beckman' striking portrait and landscape had immediate and lasting impact.
William Beckman's portraits were the subject of an individual exhibition at the opening of the newly-situated National Portrait Gallery in Washington, DC in 2006. His work is included in the collections of that museum, as well as theWhitney Museum of American Art (New York), the Joseph H. Hirshhorn Museum and Sculpture Garden and the Smithsonian American Art Museum (Washington, DC), Museum Moderne Kunst (Vienna, Austria), The Art Institute of Chicago, The Carnegie Museum of Art (Pittsburgh, PA), Flint Institute of Arts (MI), Milwaukee Art Museum (WI), Columbus Museum of Art (GA), Des Moines Art Center (IA) and Frye Art Museum (Seattle, WA).
Throughout his career, William Beckman has used conventional media in unconventional ways. His unvarnished oil paintings on panel have a depth of image and surface quality uniquely his; it is achieved by a painstaking process of layering oil paint on the panel and polishing each layer by hand before applying another. His oversize drawings, in charcoal on paper, make use of the charcoal dust and the grain of the paper in the creation of the powerful image.
William Beckman joined Forum Gallery in 1993.