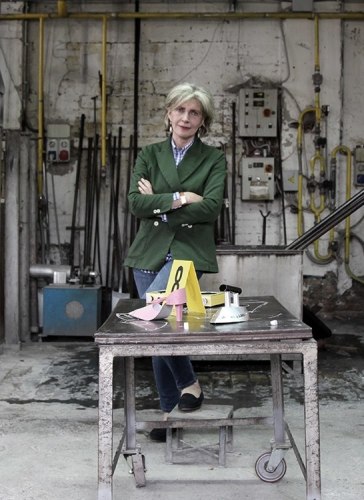 Born in Vienna, Austria in 1951, Xenia Hausner is an internationally recognized artist well known for her large enigmatic portraits, often of women, portrayed with the artist's expressionistic use of vibrant, dynamic color. Humanity and the human condition are central themes of Hausner's work, in which she utilizes radical color and gestural brushstrokes to portray her subjects in light of their vulnerability, loneliness, desire, and love. Having traveled all over the world, Hausner incorporates into her artwork the materials and mental memories collected on her travels as well as photographs of what she has seen throughout her journeys.
Hausner studied at the painting academy in Vienna and the Royal Academy of Dramatic Art in London, where she began a career as a scenic designer at the Vienna Burgtheater in 1976. From 1977 to 1992, Hausner designed more than 100 theater, opera and film productions, including those at the Shiller Theater, Berlin; the Thalia Theater, Hamburg; the Vienna State Opera; the Salzburg Festival; the Covent Garden Opera, London; and the Theatre de la Monnaie, Brussels.
Beginning in 1992, Hausner moved to Berlin and devoted herself completely to painting. Her work was introduced at the Martin Gropiusbau in Berlin in 1996 in an exhibition entitled "Die Kraft der Bilder" (The Craft of the Artist), and she was soon afforded one-person exhibitions in Salzburg and Vienna. Later in 1996, Hausner had a one-person exhibition, "Menschenbilder" at Galerie Thomas in Munich, and Galerie Thomas introduced her work to an international audience with a featured presentation at Art Cologne. In 1997, a one-person exhibition, "Liebesfragmente" was presented at the Museum Quarter Kunsthalle of Vienna and at the Ludwig Museum in Leipzig.
Forum Gallery introduced Hausner's work to the United States in 2000, when she was first exhibited in New York. That same year, Hausner was awarded the Ernst Barlach Art Prize (Hamburg, Germany), and had solo exhibitions at the Kathe-Kollwitz Museum in Berlin, State Russian Museum in St. Petersburg, and Museum of Modern Art in Salzburg. Since then, Hausner has had numerous solo shows around the world including exhibitions at Forum Gallery in New York and Los Angeles, and an exhibition titled, Hide & Seek, which traveled to the Ludwig Museum, Koblenz, and Kunsthaus Wien, Vienna. In 2011, Hausner was given a one person exhibition at the Shanghai Art Museum in China, and in 2014, the Today Art Museum in Beijing presented a solo show of her work. Hausner was included in the 2015 exhibition "From Hockney to Holbein: The Würth Collection in Berlin" at the Martin-Gropius-Bau. In 2017, Hausner exhibited at Palazzo Bembo in Venice and was included in the exhibition "Monet to Picasso: The Batliner Collection," a show of work from the Permanent Collection of the Albertina in Vienna, Austria.
In May 2019, Xenia Hausner was included in the exhibition, "Displaced: Stories in Motion", at the Ducal Palace Museum Complex at the National Archaeological Museum of Matua, Italy. Forum Gallery presented their fourth solo exhibition for the artist from November 14, 2019 to January 11, 2020. Her most recent museum exhibition, "Xenia Hausner: True Lies," is presented at The Albertina Museum in Vienna, opening April 2021.